10 lessons to understand the advantages of our off-line programming solution, and why you should use it to program your welding robots.
If you are equipped with welding robots or are planning to invest in a robotic welding cell, it is important to consider the advantages of acquiring an off-line programming software to control your robots. Off-line programming software enables you to program a robot graphically in a virtual scene and simulate its movements. It's more than just an alternative to conventional programming by learning.
In 10 lessons we are going to explain why our off-line programming solution is vital in order to program your welding robots. Just take a look at what Almacam Weld can do for you!
Lesson 1: Program up to 10 times faster than by learning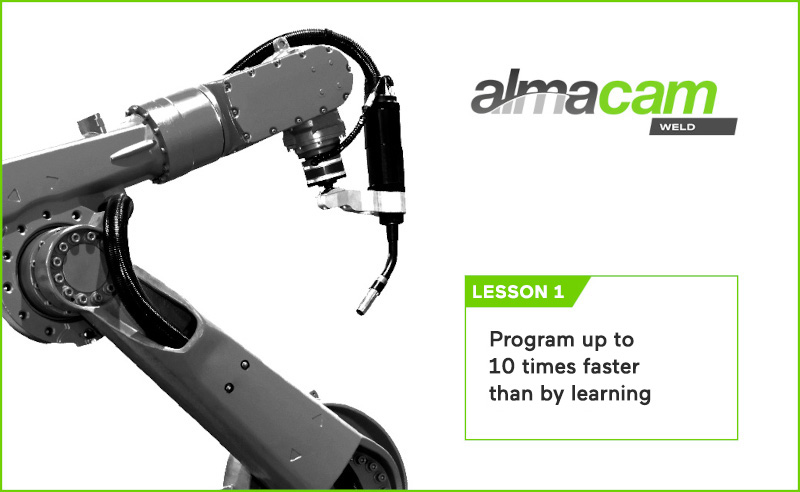 To program by learning the program is created directly using the robot. The welder uses the control unit to move the robot arm from one point on the trajectory to another, then another and so on. At each point, the welder instructs the robot to record the coordinates of the point, the movement (linear, circular, smoothed or not, etc.), starting and stopping of the arc, adding of settings such as joint follow-up, etc. Everything is done manually. As a result, on average it
takes an hour to program one minute of robotic welding. For large assemblies, this time can be much longer. [Metal Interface]
As for off-line programming, it allows you to graphically program a robot from a virtual scene and simulate its movements. The assemblies to weld, together with the tools, are imported from a 3D CAD system. Thanks to its programming and simulation tools, off-line programming enables you to develop your programs in the best possible conditions.
Although the comparisons of times for off-line programming and programming by learning vary depending on the type and complexity of the parts to weld, as an estimate it is reasonable to assume that our almaCAM Weld off-line programming is up to 10 times faster than programming by learning, and this is without taking account of the time saved by not immobilizing the robot.
Lesson 2: Maximize your robots' welding time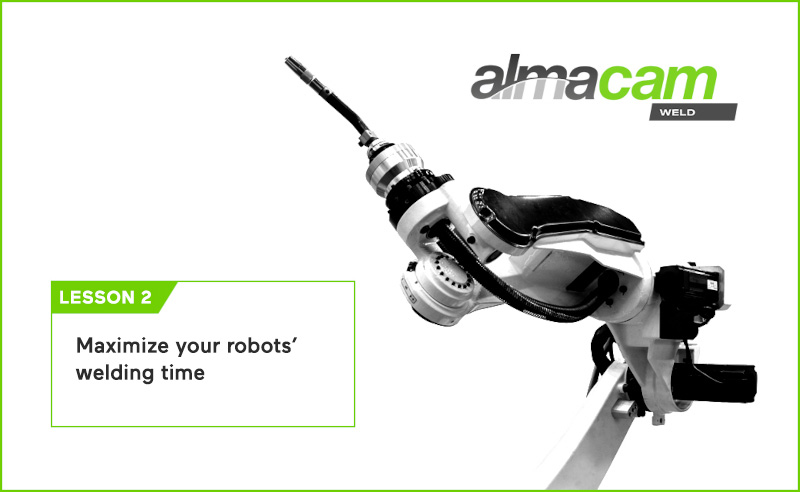 When you program a robot by learning, the robot is not welding. We have seen that this learning process can take a long time. By contrast, off-line programming is carried out at the same time, and so it doesn't immobilize the robot. While you're programming off-line, the robot continues to perform its intended purpose: welding and manufacturing. Although off-line programming may require some work to be carried out on the robot, to test or adjust the program, this method considerably increases the productivity of the robotized installation, by maximizing the robot's production time and reducing programming costs.
Lesson 3: Anticipate programming of your assemblies to weld as soon as they are designed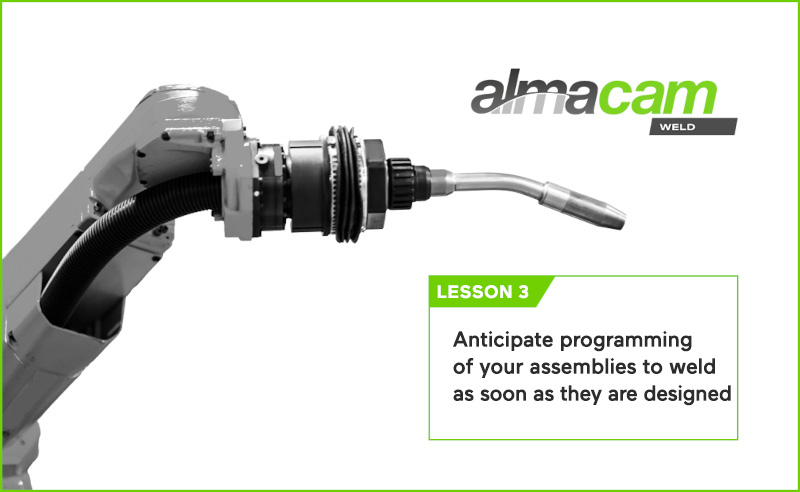 To create a robot program by learning, the assembly to weld, i.e. its component parts and the tools, must be manufactured in advance and prepared for programming with the robot. In off-line programming, all these successive steps requiring mobilization of production facilities and creating constraints are no longer necessary. The assemblies to weld and the tools can be programmed as soon as they are designed, without waiting for them to arrive at the workshop.
Lesson 4: Improve safety for your operators and robots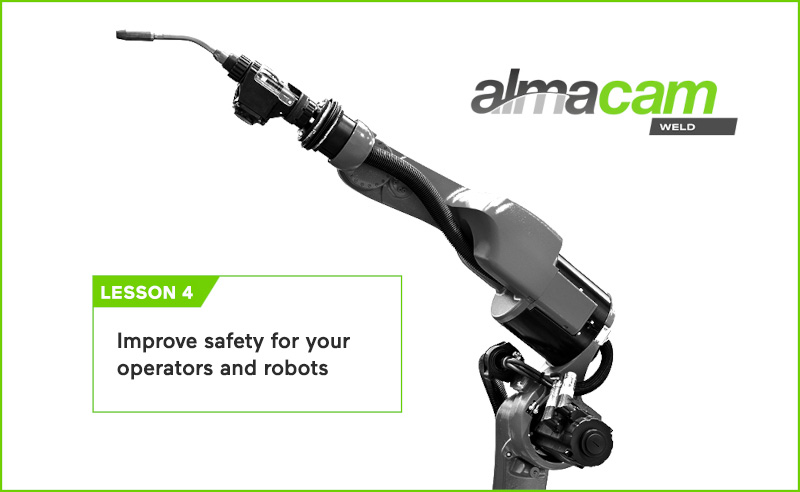 Programming by learning on large assemblies can be hazardous when the operator has to climb up to work at heights of up to 2 meters! In addition, long periods spent programming by learning close to the robot in difficult conditions increase the risk of human error. Instead of programming on a console in a potentially distracting environment in a workshop, off-line programming takes place in a much more comfortable setting at the Design or Process Planning Office thanks to the simulation tools.
Lesson 5: Simulate the feasibility of welding your parts on the robot
This is one of the intrinsic advantages of off-line programming. By taking account of all the robot characteristics (velocity, acceleration, singular points, etc.) and the cycle time computation, the off-line programming software enables you to simulate all the robot movements on screen. Thanks to these realistic simulation features, you can validate the robotic configuration and accessibility, i.e. the "weldability" of the parts on the robot, enabling you to develop your programs in the best possible conditions.
Lesson 6: Improve weld quality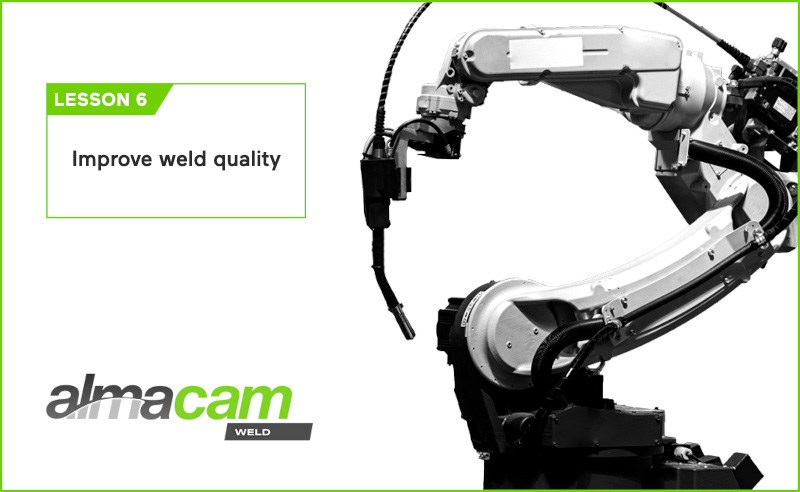 Off-line programming allows welding settings to be taken into account precisely, helping to improve weld quality. Accordingly, in the off-line programming software, weld quality is guaranteed by the torch positions (weld bath angle, nozzle/part distance) which comply with the Welding Procedure Specifications (WPS).
Lesson 7: Easily reproduce your programs on similar assemblies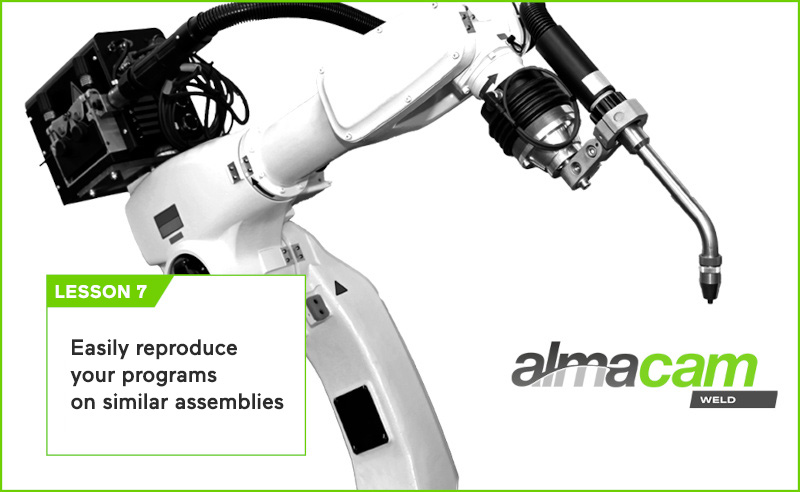 The Almacam Weld software comprises advanced duplication, symmetry and cloning functions, enabling you to automatically adapt a completed program to similar assemblies of parts. This accelerates and simplifies the programming process tremendously, and so products in the same range are quickly programmed in off-line programming.
Lesson 8: Prevent collisions between the robot and the assembly to weld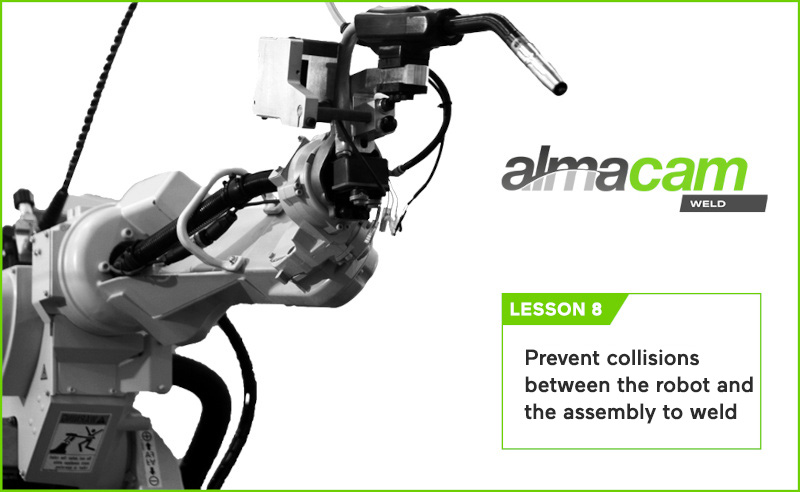 As part of the realistic simulation of robot movements which makes it possible to confirm the "weldability" of the parts on the robot (see Lesson 5), the Almacam Weld software uses a powerful automatic robot trajectory search algorithm incorporating obstacle avoidance. This makes it very easy to create optimized programs avoiding any risk of collision between the robot and the parts to weld.
Lesson 9: Validate your tools before producing them
The realistic simulation functions built into the Almacam Weld software enable users to develop their programs in the best possible conditions. Similarly, you can easily validate the design of your tools using off-line programming, before they are manufactured and installed in the workshop. Off-line programming enables you to go further, and even design the layout of a robotized cell.
Lesson 10: Go beyond management of simple robotized cells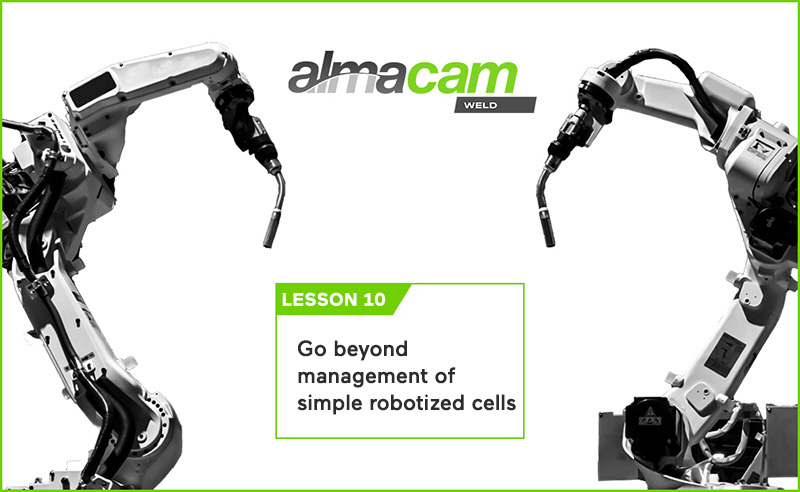 Almacam Weld was developed by an independent software vendor. You can use it to program any kind of robotic welding cell, regardless of its configuration or size, or the type and number of positioners it has. In particular, Almacam Weld manages multi-robot cells, guaranteeing continuous synchronization of movements between the different robots and the external axes.
View all posts