To estimate sheet metal or machine welding manufacturing costs and draw up accurate quotes, you need the right solutions. It so happens these operations are highly complementary to CAD/CAM since they use the same "raw materials", i.e. the parts and assemblies. As a long-standing vendor of sheet metal CAD/CAM software, Alma has logically extended its offering, developing a quotes module based on its expertise in sheet metal working, completely integrated into the CAD/CAM software. Thanks to a development strategy based on both software applications and software components, and on the strength of our web tool expertise, we are able to meet different types of quotes needs for industrial sheet metal companies.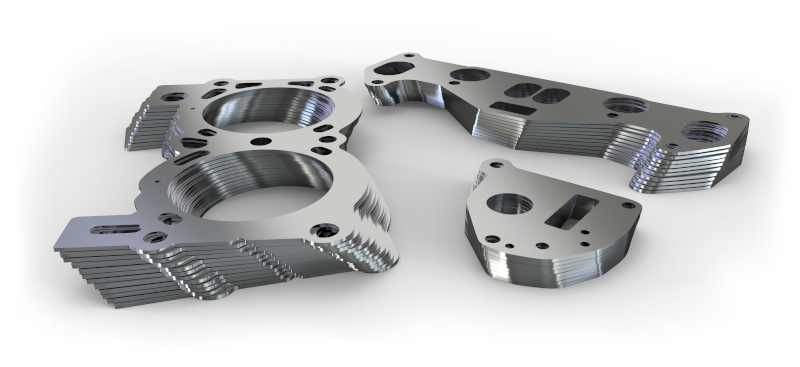 almaQuote: a software to calculate sheet metal quotes quickly and accurately
almaQuote fulfills the need to quickly create quotes, no matter how simple or complicated they may be. The software gives a precise costing for any piece of sheet metal, tube or section, by estimating the cutting cost based on technological parameters specific to the different machines on the shop floor (speed, acceleration, etc.). The cost of materials can be estimated based on the surface area or volume of the parts. A more precise estimate can be obtained using our automatic black box nesting algorithms.
Of course almaQuote also covers operations other than cutting and punching (bending, drilling, painting, polishing, etc.). In addition, the list of operations detailed in the quote can be used to draw up a manufacturing procedure.
In this way we are able to adapt to the particularities of each sub-contractor, easily modeling additional operations on the quote items, adapting the calculation formulas to specific needs, and customizing the output reports. This service can also be provided as part of a mini-audit, providing tailored customer support.
Usually sub-contractors are expected to work to very short deadlines, and not all quotes necessarily require very complex calculations or an exact evaluation of part geometry. That's why with almaQuote it's also possible to create simple quotes based on parts defined by a few characteristics (e.g. external dimensions) or "template" parts. The objective remains the same, to find the best compromise between speed and accuracy.
In addition, manufacturers can use almaQuote as an internal costing tool. In this case, the software is used to estimate the manufacturer's part cutting costs and material requirements prior to production.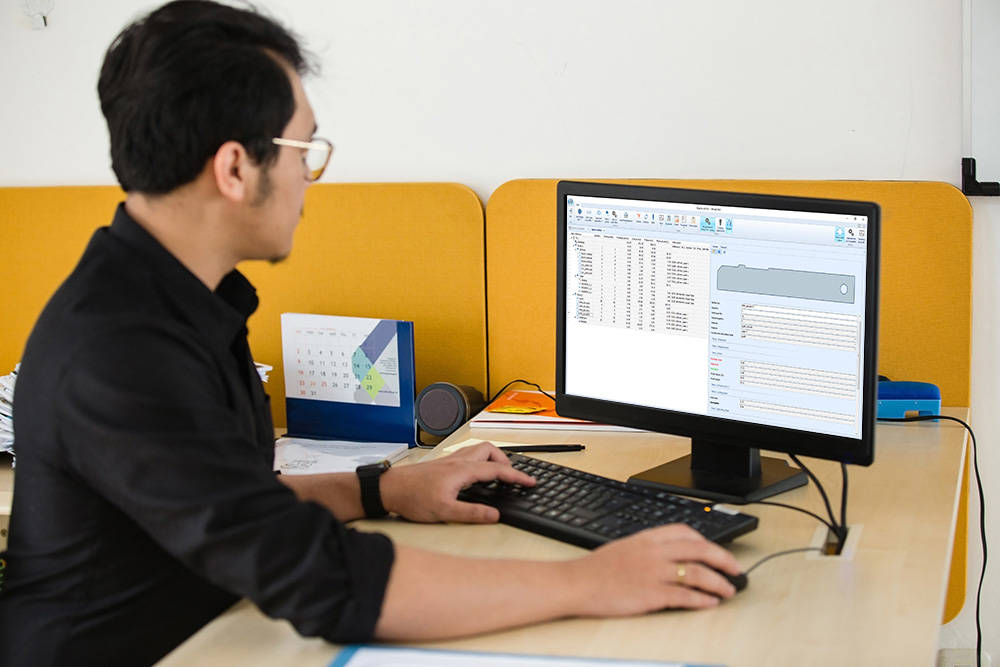 A close link between the quote tool, CAD/CAM and ERP
To be fully productive and avoid manual operations and repetitions, the quote module must be able to integrate into the CAD/CAM digital chain and the company's information system. The assembly2Cam module enables you to draw up quotes with just a few clicks, based on 3D CAD assemblies containing different types of parts, automatically recognized and quoted. The resulting time savings are pretty impressive. For example, the ALDEM company has estimated that a quote for a machine-welded assembly consisting of 60 to 80 elements which used to take it 5 hours with its old software can be completed in just 15 minutes using assembly2cam and almaQuote!
In addition, as almaQuote is completely integrated into the Almacam software suite, once the quote is accepted the parts are ready to be put into production with the Almacam Cut/Punch CAM. The nestings calculated in the quote phase can also be used in the production phase.
In addition, almaQuote is not just a costing tool; it also simplifies the way you manage your quotes, since all the documents used to produce them can be archived: part drawings, price offer from a sub-contractor, etc. Of course the software can be interfaced with an ERP, for example to import lists of customers and/or supplies, or export quote results.
Webquote: quotes at the heart of a collaborative system between the sub-contractor and their customers
To win an order, it is vital for a sub-contractor to have the shortest possible response times. With this need in mind, we have gone further and developed a complete environment for managing requests for quotes.
In addition to almaQuote, our "fat client" module, some months ago we put Webquote on the market. Thanks to this 100% on-line service, sub-contractors can offer their customers a very user-friendly portal to input and manage their requests for quotes.
Via a web interface that is very simple to use, the end customer can easily download the parts to be quoted in DXF format, or even define simple geometric shapes, and then associate a quantity, material and even additional operations to each part.
The requests for quotes arrive automatically in almaQuote and can be processed by the sub-contractor like any other quote. Once the quote is complete, it is sent via Webquote, and the customer can then accept it.
This makes communication between the sub-contractor and their ordering customers much easier. The customer has access to a history of all the requests for quotes they have made, and the orders they have placed. A chat tool is also available to communicate with their supplier.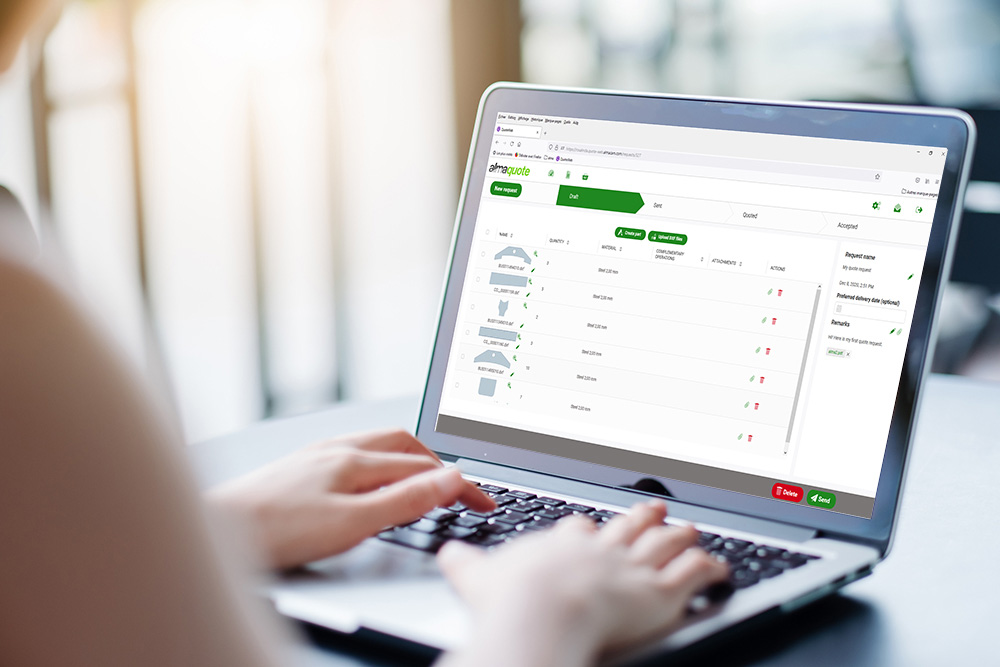 Algorithmic bricks to build your own quote module
Our industrial sheet metal quote offering doesn't stop there. Alma's specificity is that it develops software applications for end users, and also software components. This dual approach also applies to quotes.
So our Powernest (PWS) automatic nesting library is available not only in DLL format, but also in the Cloud as a SaaS web service.  It comes with tools for importing DXF files, for cleaning and topological analysis of the parts to quote (GeomWS), as well as libraries of parametric shapes. The results produced by the nesting algorithms and the data resulting from parts analysis can therefore be integrated into third party business applications to calculate cutting times, and therefore costs for manufacturing and material recovery.
Sheet metal ERP and sheet metal on-line quote software vendors are already using our software components in this way. Industrial sub-contractors are also starting to develop web portals for their own customers.
If you have a project concerning sheet metal or machine welding quotes, we are sure to have a solution with our software applications and components, for complex customers or in the Cloud. Contact us today!
View all articles