Contact us
At Alma, our passion for technology is behind everything we do, and pushes us to go that extra mile!
We might be developing a post-processor for a brand new cutting machine, calibrating an off-line programming software with a welding robot in a machine welding shop, or training partners to configure the Almacam Tube software. Whatever it might be, there is a huge volume of accumulated work, learning and expertise enabling Alma team members to perform these tasks every day, encapsulating all the value of our products and services.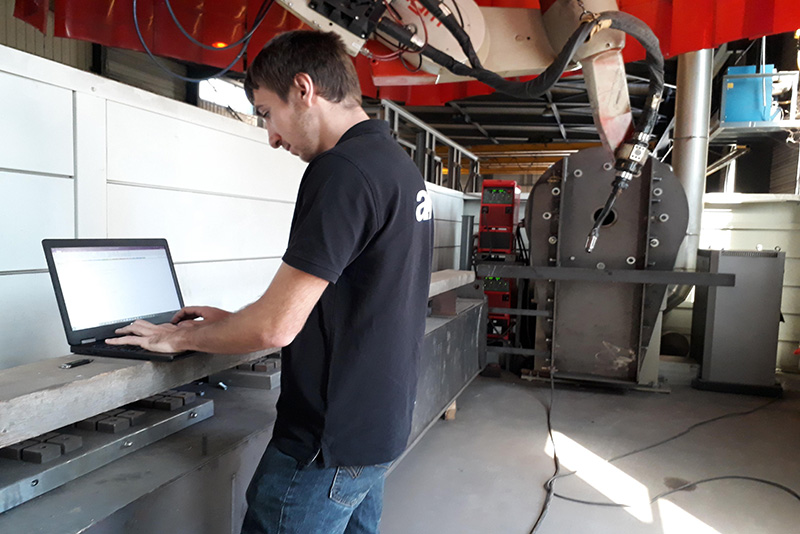 A strong technical customer-oriented culture
A passion for technology has always been Alma's hallmark. While most team members share this passion and choose to work for us to pursue it to the full, it only means something if it leads to solutions: responding to specific customer issues, improving product performance and usability, enabling effective project management. Pierre is an algorithm engineer. This is how he sums it up:
What is really exciting about developing our optimization software is the link between abstract math and IT problems, and the concrete realities of industry. We can allow ourselves all kinds of intellectual flights of fancy, but in the end the solution has to function in a shop, with the restrictions of a shop, enabling production to take place.
Alma possesses two types of mutually enriching expertise: IT expertise of course in all its manifestations (development, programming, algorithms, parameters, knowledge about tools and ecosystems, market perspective, etc.), and business expertise acquired through detailed knowledge of our customers' activities and businesses. This expertise may be highly specialized (e.g. production processes and technologies developed for sheet metal working or machine welding, detailed knowledge of the ship-building industry). It may also take a more wide-ranging form – digitization of processes as part of Industry 4.0, understanding constraints linked to an organization and its interactions with the exterior (e.g. between sub-contractors and ordering customers), proven methodology for information system analysis and transformation, etc.
A means of individual and collective progress
A passion for technology, combined with love of a job well done is a decisive factor contributing to the quality of our products and services. It is also a fantastic source of challenges and emulation within our teams.
Alma's technical culture attracts many talented people. At Alma, top class engineers and technicians of different ages rub shoulders. They boast diverse skills, are experts in their respective fields, and surpass themselves to find solutions.
Alma provides a fertile breeding ground for creativity and continuous improvement through exchanges of ideas, sharing of knowledge, transmission and capitalization of knowledge. The foundation for our genuine technical culture is this capacity to learn from others, to build solutions together, to move a team, project or product forward together. It is recognized internally and outside the company.
This state of mind is closely linked to Alma's human values centered on personal development, collective intelligence and solidarity. It underpins Alma's raison d'être and its cooperative approach. We will have an opportunity to talk about this again in an upcoming article!
View all posts