In many industrial sectors it is necessary to cut parallelepipedic parts from large blocks of material. The materials may be soft (e.g. foam of any kind or wood), or hard (metal, graphite, etc.), but the method is more or less the same. The block is cut from one side to the other using a hot wire, a vibrating blade or a band saw to create the secondary blocks, and so on until the elementary part is cut out. For applications where the groups of parts to produce are particularly large, it is necessary or even mandatory to use a cutting optimization software. Spotlight on 3D nesting algorithms, their uses and the gains they generate in terms of material consumption and time.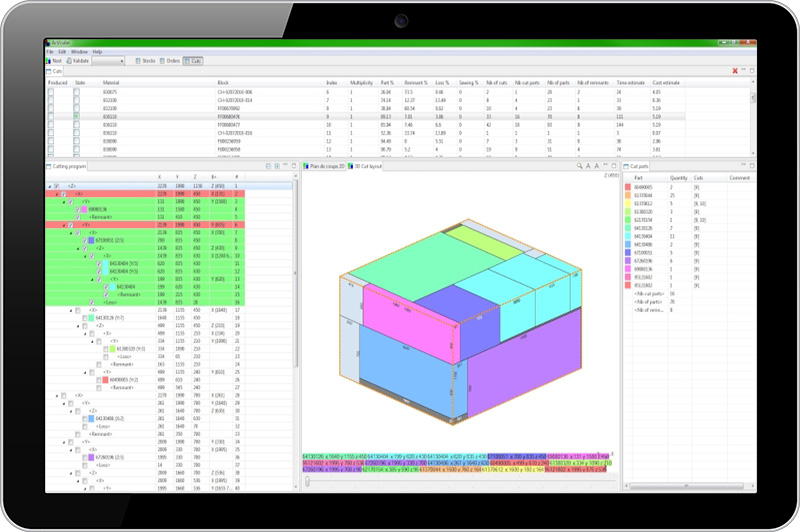 Highly specialized cutting machines
These machines, which are not always numerically controlled, can cut vertically and horizontally. They are usually specialized in certain types of material. For example, some polyurethane foam cutting machines can cut up blocks placed on a carousel into slices of different thicknesses, by means of a horizontal blade the height of which can be adjusted. To cut hard metals, composites or graphite, a band saw is normally used. Marble and granite are cut on large machines using a rotating diamond saw. Foam cutting constitutes a very large market. Several manufacturers sell high-end solutions and extremely sophisticated numerical control machines.
3D cutting optimization software to minimize waste
If the part dimensions vary (i.e. length x width x height) and there is a large number of such parts, it can quickly become very difficult for the human mind to devise 3D cutting plans. This is where an optimization software comes into play. As in 2D with rectangles and especially when the parts can be any shape, this software will optimize the "filling" of blocks of raw materials, based on the orders of parts to produce. There are two advantages: computation is lightning fast and material yield is optimized. When the raw material is expensive, as is the case for certain special foams and graphite, this optimization can generate substantial savings!
Apart from the financial aspects, the growing awareness of ecological concerns is pushing companies to measure and minimize their energy consumption and waste production. Optimization software is a vital tool to achieve these goals.
The two main components that are optimized are the materials and the energy used for cutting. But our algorithms don't stop there. In each field of application, it is necessary to meet certain specific requirements. For example, with a "soft" material like foam, it is difficult to get a narrow block to stand vertically for cutting. It is therefore necessary to carry out optimization under constraints so that the nesting is fully exploitable at the production stage. The same applies in certain cases to avoid too many machine repositionings, which take up a lot of time in the workshop.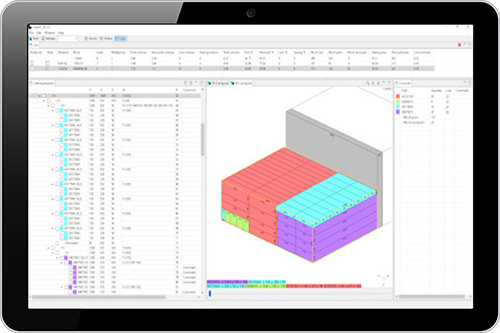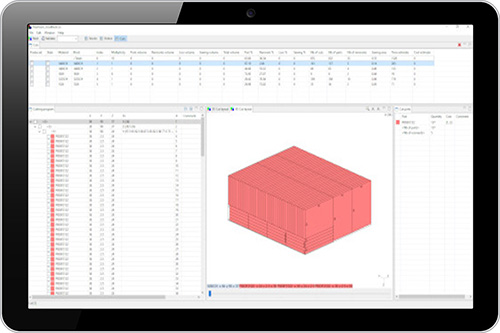 Nesting algorithms for every type of use
As a specialist in cutting optimization software and an expert in automatic nesting for 40 years, Alma has of course looked at every single cutting process: 1D (linear cutting of bars or tubes), 2D (rectangular edge to edge cutting or cutting of any shapes) and 3D (cutting of parallelepipedic parts). What makes us different is that we develop our own automatic nesting algorithms, and so we control both the nesting engine and the application software built around it.
We go even further than that. We sell this nesting engine in the form of a software component (Powernest Cube) to specialized software vendors or machine manufacturers who have developed their own optimization software, e.g. in the foam cutting field. As for our almaCube software, it is used throughout the world by companies that cut parallelepipedic 3D parts out of numerous materials: polyurethane, polystyrene, marble, granite, wood, graphite, steel, etc.
A universal software for 3D block cutting
almaCube makes it possible to quickly create very compact assemblies, thanks to true 3D nesting, not just simple stacking of layers. The software optimizes use of material not just within a single block, but also more generally, to select the most appropriate blocks. It manages tolerances to eliminate superfluous cutting for materials that require long cutting times and high energy consumption. The user can set the optimization computation time. almaCube is capable of re-using off-cuts and managing optional parts quantities. In addition, the software can be combined with a Production Management or ERP system to import files (formats and quantities) and offers customization capabilities too. almaCube is very simple to use. It produces cutting plans adapted to the functional characteristics of the machines (edge to edge cutting, etc.) and to the different cutting technologies (wire, blade, saw, etc.) The nesting results can be exported automatically in the .csv format, and the workshop sheet describing the cutting program can be customized according to customer requirements.
Thanks to an on-line demonstration, followed by release of a test version after a quick training course, any company wherever they are in the world can test the almaCube software to see whether it meets their needs, while benefiting from Alma's expertise and support. Are you interested? Contact us and tell us about your needs!
View all posts