Use of software applications in SaaS mode (Software as a Service) is a fundamental trend, where major players such as Microsoft and Amazon Web Services are in the forefront with their cloud computing services. Between 2019 and 2020, the world market for SaaS applications alone grew 18.5%, reaching 148.5 billion dollars (+24.1 % and 312 billion dollars for all public cloud services)[1].
While the SaaS market has been driven by management applications taken in the broad sense, today industrial software is catching up fast. Alma has been a ground-breaker for many years with its nesting software components available as web services. Today Alma continues to invest in a SaaS offering adapted to its different customers: end-users, machine-tool manufacturers and software vendors. These solutions are guaranteed to fit perfectly with customers' functional needs, delivering maximum usablity and optimal adaptation to economic requirements.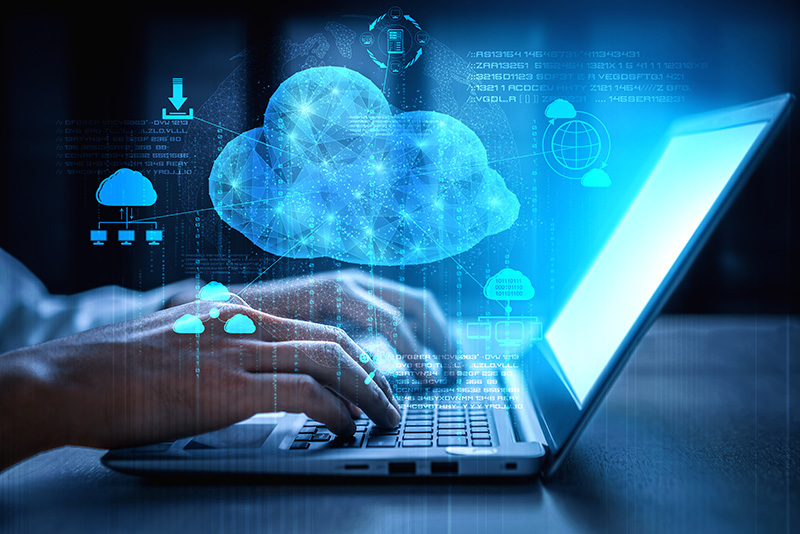 Why is it a good idea to use software in SaaS mode?
First of all, what is a SaaS application exactly? According to Wikipedia, "Software as a Service (SaaS) is a software licensing and delivery model in which software is licensed on a subscription basis and is centrally hosted. SaaS is also known as "on-demand software" and Web-based/Web-hosted software." We should add that SaaS applications are developed natively for use in the cloud, and so they are known as Native Cloud Applications (NCAs). They allow access to data on several devices (desktop computer, tablet, smartphone) while preserving coherence of the information.
The advantages of SaaS mode for the user are numerous, and below are the most important.
SaaS facilitates business management in an uncertain context
The software becomes an operating expense instead of an investment (OPEX as opposed to CAPEX).  Costs remain aligned with the level of activity of the company, whether up or down, provided no long-term commitment is required. In the current context where businesses have limited visibility, paying as you go means they can avoid having to seek financing.
SaaS guarantees constant software updates
The application is continuously updated by the vendor, and a single release upgrade operation is performed for all customers. This means customers are guaranteed to benefit from new features as soon as they are developed, drastically reducing the costs of updates. For the user this operation is transparent. Its cost is integrated as part of use.
SaaS increases software performance compared to a heavy client solution
In the Cloud, computation capacities are adapted to users' needs. This is facilitated by IaaS solutions (Infrastructure as a Service). Similarly, in a field relevant to  Alma, today it is possible to parallelize algorithms powerfully via FaaS (Function as a Service), e.g. with AWS Lambda or Microsoft Azure Functions.  This technology makes it possible for instance to execute 100 operations simultaneously, such as importing 100 DXF files, which reduces processing times accordingly.
SaaS brings greater security
Ransomware attacks against public and private sector organizations are constantly on the increase, and are now very well organized thanks to ransomware-as-a-service (RaaS). In the case of a Saas solution, it is the vendor who is responsible for security of both the architecture and the software. The industrial customer does not have to worry about it.
SaaS facilitates learning to use software
SaaS makes use of software programs that have been completely redesigned to facilitate use and shorten training periods.
SaaS facilitates software support
If the customer has a problem, there is no need for them to be available, to have to log in to their workstation, or to go through a costly and complicated updating procedure.
SaaS simplifies software license management
It's very easy to add or delete users of a Saas application, using a management console, since this is the core principle of these solutions. Using a heavy client solution it is sometimes necessary to install the software in order to acquire new licenses.
SaaS fulfills new mobility requirements
With the development of working from home, accelerated by the health crisis, users have to be able to access their applications from home as well as from work. SaaS makes it easy to meet this need. In addition, for most applications there are no particular capacity requirements for client workstations, which reduces equipment costs.
To sum up, SaaS reduces direct and indirect costs of running software, and makes it possible to adjust expenditure according to a company's activity and rate of use.
Alma, a pioneering CAD/CAM software vendor when it comes to SaaS
As a vendor of industrial software, Alma's specific characteristic is that it develops and markets both software components, in particular nesting algorithms (for other CAM or ERP software vendors) as well as CAD/CAM software in which they are embedded (for industrial end-users). In addition, by developing its components and software programs internally, Alma ensures it has complete control over its products.
Optimization algorithms in the Cloud
Therefore Alma became interested in the Cloud very early on, and several years ago made available a SaaS range of software components with PWS et GWS, two algorithmic web services destined for software vendors who want to offer their customers a Saas solution. PWS is an automatic nesting library, resulting from Alma's 40 years of experience in cutting optimization. GWS is a tool for importing DXF files, for cleaning and topologically analyzing parts so that they can be processed by a CAM software. With its optimization algorithms in the Cloud, Alma has pushed the "Software as a service" concept as far as it will go, since the cost of the service depends on the number of nestings performed (PWS) or files processed (GWS).
Nesting on demand via the web
Early in 2019 Alma took another step towards SaaS with Nest&Cut, an automatic nesting web application for industrial customers. With Nest&Cut, any company involved in cutting flat materials, no matter where they are in the world, can access the best nesting algorithms to reduce raw material costs without investing in a costly "heavy client" solution. Nest&Cut is available by subscription after a free trial period. It exploits all the power of the Cloud to optimize not only nesting computation times but also the time required to process and automatically clean the DXF geometries transferred by the user. Today Nest&Cut has several hundred users, and now the application is going to make it possible to generate ISO programs for simple numeric control cutting machines.
Sheet metal CAD/CAM software available by subscription
With Almacam Pass, a new subscription-based offer with no minimum period requirement, Alma gives every company a completely flexible solution to program its cutting machines and draw up its quotes. This subscription-based service adapted to use of the software is a first step to push forward the Almacam CAD/CAM software range towards SaaS or hybrid solutions, while keeping a conventional "heavy client/software license" operating mode which industrial customers still want to use. Above all, in an uncertain economic context, Almacam Pass enables them to deal with the variability of their activity, avoid a major investment and benefit from an all-inclusive service.
SaaS to extend a 4.0 industry product offering
Whether it's a question of algorithmic components (nesting, geometric processing and importing, and now tool path calculation) or application software (CAD/CAM for cutting and robotics, production control and management, etc.), Alma is going to offer more and more SaaS solutions to add to the functionalities of its current range. These hybrid solutions improve overall performance and will also widen the scope of Alma product functionalities. This is already the case with Webquote, a web service added to the almaQuote sheet metal quote software. It enables sub-contractors to provide their customers with a very user-friendly portal to enter and manage their requests for quotes.
Eventually, Alma will offer its customers a complete suite of extremely high performance SaaS modules that can be used separately or assembled for a customized CAM solution. This will include automation of end-to-end production, modules for 4.0 industry CAD/CAM bespoke CAM software, connections to third party applications, simulation, etc.
This is made possible by continuous investment and permanent innovation. Every year on average, Alma invests the equivalent of 25% of its vendor sales figure in Research & Development. This percentage will increase further in the years to come.
The SaaS train at top speed
Today the SaaS model has been tried and tested. Software vendors are investing massively in this field to improve service to users. Indirect sales networks are also adapting to this new business model, which shortens the sales cycle and, as for the vendor, brings them long-term recurring revenue. It also liberates them from integration issues so they can focus on high value-added services, while strengthening their business expertise.
Customers understand the functional, organizational and financial advantages of the SaaS model, which easily outweigh the perceived risks (availability rate, confidentiality of data in the Cloud, etc.). In this area, the future seems to be clearly mapped out: SaaS is becoming the standard within the industrial software ecosystem for the benefit of all stakeholders, and Alma is in the driving seat.
[1] Source : IDC Worldwide Semiannual Public Cloud Services Tracker
View all posts