A CAD/CAM software is by nature inseparable from an NC machine tool, since its purpose is to program it. To offer their customers an all-in-one solution that meets their needs, machine tool manufacturers or resellers often choose to include a CAD/CAM software in their package. This enables them to increase their solution's added value, assist their customers and stand out from their competitors. This is particularly true in the world of cutting and sheet metal. Although some major manufacturers develop their own software in-house (at the risk that it will not be able to control other machines the end customer uses, or to integrate into their information system), most choose to work with an independent software vendor like Alma. Before we give you a taste of the specificities Alma's approach brings, let's look in detail at the questions a manufacturer must answer in order to choose this vendor.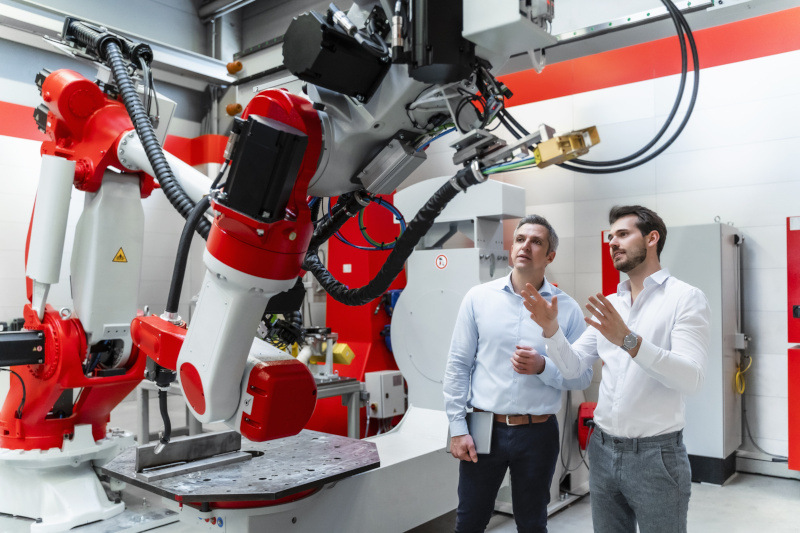 Technical aspects
The most important point is naturally that the software must meet the needs of the manufacturer and its customers. Of course, the software must be intrinsically compatible with the technology or technologies the manufacturer covers, its range of machines and the peripheral devices they control, e.g. loading/unloading of steel sheets. But it is often the software's capacity to adapt which will make the difference, and it is important for the manufacturer to ask several questions:
Sales and marketing aspects
The software vendor's capacity to support the manufacturer in sales and marketing activities is also key, in particular in the initial stages of the partnership:
These questions also concern the very nature of the commercial relationship established between the vendor and the manufacturer, and even with the prospect or end customer, and the convergence of their objectives. It is difficult indeed to build up a relationship of trust without a clear shared vision.
So what is Alma's position concerning all these different aspects?
A strong partnership culture
Ever since Alma was created more than 40 years ago, the company has been designing innovative software solutions to optimize consumption of material and the potential of machines and robots. As an independent company, Alma has always worked closely with manufacturers of machine tools and robotized systems. It has built up long-standing partnerships with many of them.
A machine manufacturer working in partnership with Alma has three advantages:
It can provide its customers with high performance technical solutions,
It benefits from a broad portfolio of services,
It reaps the advantages of a tremendous capacity for adaptation, both on the technical level and for marketing.
A custom technical solution for manufacturers and their customers
In a certain sense, providing its partners with tailored software solutions is Alma's hallmark. This strategy is supported by the widest offering imaginable on the CAD/CAM market for cutting: software components that can be integrated into a third application (in particular automatic nesting algorithms), application building blocks (quotation module, image or logo vectorization module, etc.) up to and including the turnkey application software delivered to the end user. All this is combined with "On Premises" and "Cloud/SaaS" solutions, bringing additional added value to the manufacturer's offering.
It is also important to note the trend for manufacturers to develop increasingly varied or even specific machine models. Alma is able to meet this need by extending its product range: 2D cutting, 5 axis, tubes, robotics, etc.
As a corollary, all Alma products and developments are fully under its control. In combination with unparalleled business expertise, this guarantees perfect control of the manufacturer's machines and makes the "OEM" partnership extremely agile and responsive.
Consequently, to foster a long-term partnership relationship, Alma is constantly looking to enhance its software in line with the needs expressed by the manufacturer, in particular to keep up with changes to machines. This enables Alma to help the manufacturer with its R&D, while guaranteeing total confidentiality of the information that is disclosed.
A partnership where the manufacturer maintains its independence
This "OEM culture" based on adaptability also enables a manufacturer to stay in charge of certain parts of the software, such as the post-processor, provided they have the resources to do so. This enables it to develop a new machine with a post-processor that is a perfect fit in every respect. For a 3D cutting or robotics application, this may concern 3D modeling and definition of the limits of the machine axes, development of specific macros or functions, etc. In this case the partner becomes independent, no longer requiring Alma's help for specific development projects, and protects its in-house know-how.
The manufacturer can even take advantage of this independence to interface the software with the end customer's information systems (ERP in particular), thanks to the availability of a powerful and agile development environment. However, this type of integration usually requires Alma's know-how. Alma is capable of developing specific modules directly on demand from end customers, and has the capacity to manage this triangular relationship, which is essential for the long-term success of its partnership with the manufacturer.
Tailored technical and marketing support
In addition to customization and continuous improvement of the software, Alma's added value lies in its partner upskilling actions. This assistance covers technical and commercial training, demonstrations, software installation and customer service. Here again, different levels of cooperation are possible depending on the partner's preference. For machine tool manufacturers or resellers that do not have the necessary resources or skills to provide the service relating to software, Alma and its network of subsidiaries and resellers can provide all or part of the pre-sale and after-sale services, in coordination with the partner.
In all cases, Alma's expertise, staff numbers and presence in many countries enable it to provide highly responsive technical and commercial support services worldwide.
In the marketing field, depending on the manufacturer's strategy, the delivered solution may be promoted using the manufacturer's own brand (in other words white label) or the Alma brand.
An independent vendor functioning as a cooperative
Alma's partnership culture stems directly from the company's corporate culture and cooperative values. The parent company in France is a cooperative company owned entirely by its employees, and this has been the case since it was created in 1979. Independence is therefore ingrained in Alma's DNA. The company cannot be sold or relocated, and does not want to be! Alma has therefore placed emphasis on establishing partnerships with a wide variety of players (manufacturers, integrators, software vendors) taking a long-term view, with strictly neutral ethics and absolute confidentiality.
Today Alma is an international financially robust group, enjoying continuous growth. It is pursuing an industrial strategy based on innovation, investment in its products, long-term cooperation with its partners in order to fully satisfy their common customers, and also perpetuation of the company, rather than seeking to achieve short-term profits. Other good reasons to have faith in a partnership with Alma.
View all posts