Contact us
With Almacam Pass, Alma launches the new flexible subscription access to sheet metal CAD/CAM software
Use of a subscription-based service has become common practice, even the norm in many domains. So why not for a sheet metal CAD/CAM software? With Almacam Pass, the new subscription-based offer with no minimum subscription period, Alma gives every company a completely flexible solution to program its cutting machines and draw up its quotes. In an uncertain economic context, Almacam Pass enables industrial companies to deal with the variability of their activity, avoid a major investment and benefit from an all-inclusive service.
Using Almacam Pass, each company creates its own custom CAD/CAM application, combining the CAM, MACHINES and QUOTE modules adapted to its production needs and choosing the subscription packages corresponding to the needs of the different users. "We have developed a simple offer adjustable not only to each of our customers, but also to each end-user: methods engineer, shop operator, quote preparer, etc." explains Grégory Rota, Alma's France sales manager.
Three CAM subscription packages are available (Silver, Gold, Platinum) according to the level of functionalities required in CAD/Drafting, data management, nesting and CAM. For example, companies using unfolding of 3D parts or importing CAD assemblies can choose the Platinum package more specifically designed to meet their needs.
Almacam Pass makes available all the technological 2D cutting functions in the broad sense (oxy-cutting, plasma, laser, water jet, punching-nibbling, plasma/drilling combination, 2.5 axis milling of metal, wood routing), depending on the chosen "machine pack".
The QUOTE subscription gives access to the quote module, particularly useful for sub-contractors. It can be added to the modules above, with several levels of functionalities.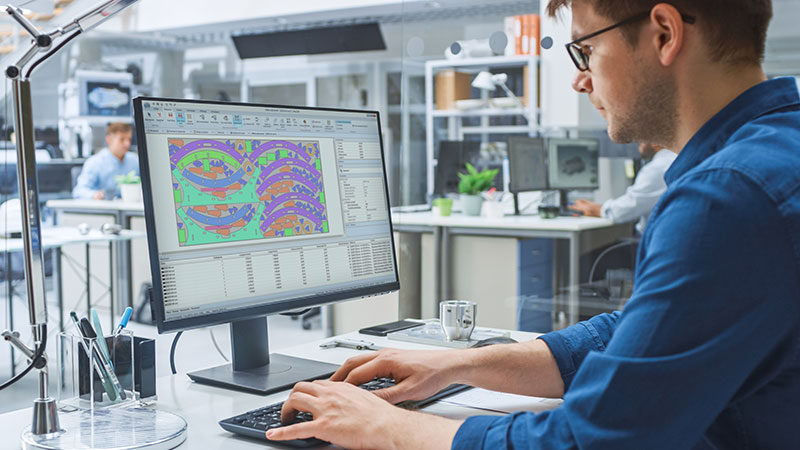 A completely flexible offer
With Almacam Pass, there is no minimum subscription period. A company that subscribes to the services can stop at any time – only the current month is due. In addition, it is possible to add, modify or cancel subscription packages at any time, to adapt to peaks or dips in activity. "Almacam Pass gives our customers the flexibility they are looking for, especially during a period when economic activity is unpredictable" sums up Grégory Rota.
Pay per use, no investment necessary
In this context, the advantage of the subscription concept for a company is that they avoid making an investment and having to go through the associated financing processes. Since the subscription is a simple charge, in book-keeping terms, the operating cost is deducted from income. Grégory Rota adds "Almacam Pass also enables the customer to control their prices, since they know the monthly cost price of their subscription. Thanks to the flexibility of the package and no minimum subscription period, they truly only pay for use of the software. "
What's more, as part of the Almacam Pass subscription, the customer benefits from an all-inclusive service: use, support, corrective maintenance and upgrades. Only the initial software set-up costs are billed separately. Almacam Pass guarantees availability of new functionalities, the latest Almacam innovations and updates. Furthermore, depending on the customer's needs, assistance with use can be reinforced through customer support and consulting services offered by the Alma reseller.
In 2018, Alma launched Nest&Cut, the first automatic nesting web application in SaaS mode. Today Alma is a pioneer in making its Sheet Metal CAD/CAM software available in a subscription format, continuing to innovate and adapt to its customers' needs. The Almacam Pass is available from March 2021 in all countries where Almacam is sold, in parallel to the conventional method of a permanent license.
Find out more
View all articles