Schweissen & Schneiden is the world's leading trade fair for joining, cutting and surfacing technologies, and the must-attend event for all industry players involved in sheet metal cutting and welding, in which Alma has participated for 35 years.
Cutting and welding: a show at the heart of Alma's expertise
The show's positioning is particularly in tune with Alma's expertise, as the only CAD/CAM software publisher to address both cutting and robotic welding processes, enabling to offer a comprehensive digital solution to mechanical welding manufacturers meeting the challenges of Industry 4.0.
For this 2023 edition, Alma will be presenting its complete range of software for 2D/3D cutting, sheet-metal working and robotics, integrated into the new-generation Almacam suite or available via the web. These applications manage the entire sheet-metal and mechanical-welding digital chain, and cover in particular:
Nesting and CAM for 2D cutting (laser, plasma, oxycutting, waterjet, punching-nibbling and routing).
Production management (integration with ERP, launching orders and stock management, workshop station, production planning, etc.)
Sheet metal quoting
CAM for 3D cutting, tube and profile cutting
Offline programming of welding robots
Off-line programming of welding robots in the spotlight on the stand
The focus will be on Almacam version 4.0 and its variants for plasma, laser and oxy-fuel cutting, as well as the latest additions to OLP's Almacam Weld software, in particular the functionality for automatic creation of relocation programs, with the aim of creating part relocation trajectories linked to the welds produced.
This time-consuming manual operation is now automated and takes just a few seconds. Different measurement strategies are interfaced to meet customer requirements, both in terms of trajectory accuracy and cycle time optimization. Following on from the "one-click program" automation of the robotized welding process, this new functionality is completed by the automatic creation of collision avoidance trajectories on a set of relocation programs.
Almacam Weld has been the benchmark solution for robot OLP for 25 years, offering numerous advantages in terms of productivity, flexibility and safety.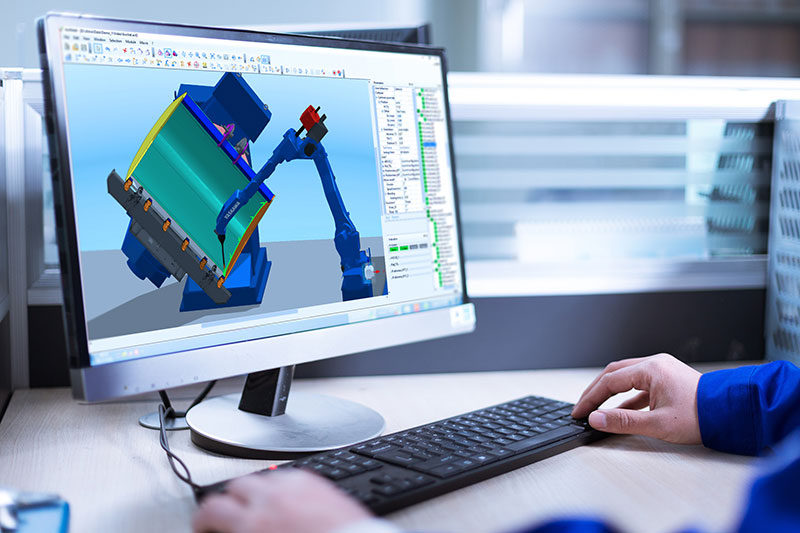 An independent, forward-looking industrial software publisher
More broadly, the show will be an opportunity for Alma to reaffirm its unique position in the industrial software market. Alma is an independent software publisher thanks to its cooperative status, whose products are entirely developed in France (including its own optimization and nesting algorithms), investing massively in R&D, a forerunner in the field of the Cloud and very committed to the development of a web/SaaS offer, Alma is the only player able to offer such a complete range of solutions adapted to all customer profiles (end-users, machine tool manufacturers or software editors), from the software component (2D/3D nesting, geometric import and processing, tool path calculation… ) or the customized module to the turnkey CAD/CAM software application.
View all news