For over 40 years, Alma has been developing CAD/CAM software solutions to help optimize consumption of material and the potential of machines and robots. Alma will present at EuroBLECH 2022 the latest innovations of its new generation Almacam software suite for 2D/3D cutting, sheet metal working and mechanical welding. A focus will be on Alma's « Saas » offering, that enables industrial companies to benefit from a completely flexible and all-inclusive service to program their cutting machines and draw up their quotes, enabling them to deal with the variability of their activity. Cutting machine manufacturers and software editors will be able to discover Alma's algorithmic components for cutting optimization, which they can integrate into their own applications.
All round innovations in sheet metal CAD/CAM, nesting and offline programming of welding robot
Alma will present all its software applications for 2D/3D cutting, sheet metal working and robotics, integrated in the new generation Almacam suite or available via the web:
Almacam's latest innovations will be presented, in particular:
New palletizing module for the evacuation of cut parts.
New version of Almacam Tube completely integrated to the Almacam platform.
New interface for editing quotes.
Webquote, a web service that automates the preparation and processing of quotes and facilitates exchanges between subcontractors and ordering parties.
New functionalities in OLP to further facilitate the automation of robot programming.
Extended functions of the Nest&Cut web application to export NC code for many cutting machines.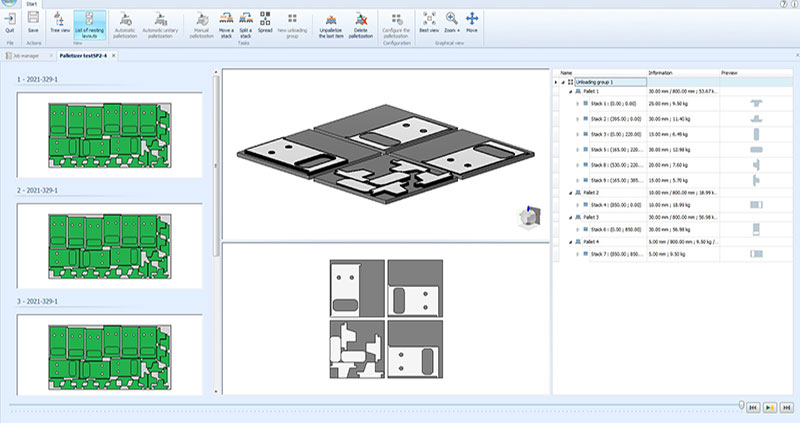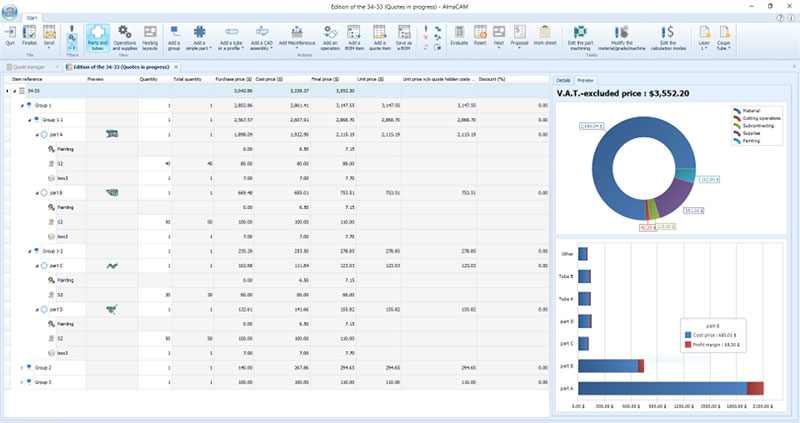 A "Saas" offering available for every customer
Use of software applications in SaaS mode (Software as a Service) is a fundamental trend, including in the industry. Alma has been a ground-breaker for many years with its nesting software components available as web services. Today Alma continues to invest in a SaaS offering adapted to its different customers.
At EuroBLECH a focus will be on subscription-based offer with no minimum period requirement, enabling industrial companies to use Almacam in a simple and flexible way to program their cutting machines and draw up their quotes, by combining the modules adapted to their production and to each user's needs. In an uncertain economic context, Almacam Pass enables them to deal with the variability of their activity, avoid a major investment and benefit from an all-inclusive service.
The iconic Nest&Cut web application will also be demonstrated at the booth. With Nest&Cut, any company involved in cutting flat materials can access the best nesting algorithms to reduce raw material costs without investing in a costly "heavy client" solution. Nest&Cut exploits all the power of the Cloud to optimize not only nesting computation times but also the time required to process and automatically clean the DXF geometries transferred by the user. Today Nest&Cut has several hundred users worldwide, and now the application makes it possible to generate ISO programs for simple NC cutting machines.
Machine tools manufacturers or software developers will also have the opportunity to discover Alma's cloud algorithmic components for cutting optimization (nesting, geometric processing and importing, tool path calculation, etc.). which they can integrate into their own applications, Saas or "heavy client".
Whether it's a question of software components or application software, Alma is offering more and more SaaS solutions to add to the functionalities of its current range. Eventually, Alma will offer its customers a complete suite of extremely high-performance SaaS modules that can be used separately or assembled for a customized CAM solution. This will include automation of end-to-end production, modules for 4.0 industry CAD/CAM bespoke CAM software, connections to third party applications, simulation, etc.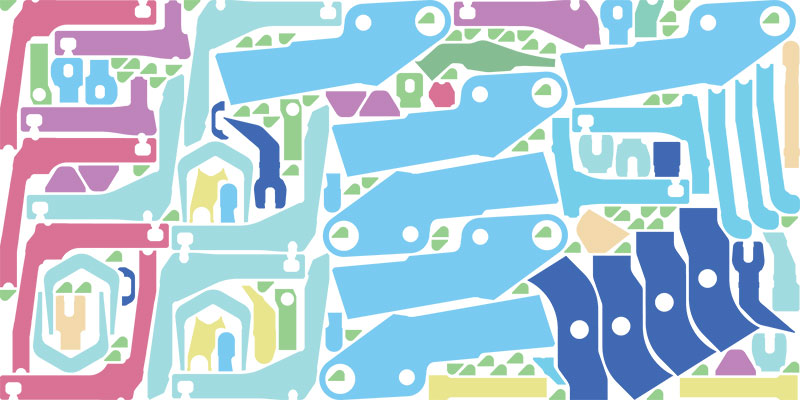 An independant international group, looking to the future
Alma is internationally renowned for its technical expertise, which it has developed over the years in many different countries. Alma's software is marketed via a worldwide distribution network that includes country subsidiaries (Germany, Italy, Spain, Brazil, USA, Singapore, China), Value Added Resellers, integrators and partners (machine tools manufacturers and software publishers).
In software publishing, Alma has a particularity: it has chosen a cooperative status. Indeed, Alma's parent company in France has been a cooperative company (Scop) since its creation in 1979, and is therefore 100% owned by its employees. This cooperative status strongly marks Alma's culture, which is based on values centered on the valorization of the company's project, the development of people, solidarity and collective intelligence. It is the guarantee of the independence of the Alma group and of its anchorage in the territories where it is established (it is not possible to resell a Scop). It favors innovation, investment in products and sustainable cooperation with customers and partners. Finally, it confers to the company an ethics and a particular responsibility as for its social, environmental and territorial impact.
Today Alma is a solid, prosperous international group, enjoying continuous growth. Alma is pursuing its industrial strategy based on the development of an extended range for Industry 4.0, a long-term corporate project and the commitment of its employees.
View all news