ALMA and ASCO DATA are joining forces to form a leading group on the German sheet metal CAD/CAM market.
ALMA and ASCO DATA, two major European players in the sheet metal CAD/CAM with their head offices in Grenoble (France) and Bremen (Germany) respectively, have announced that ALMA GmbH, the German subsidiary of ALMA, has purchased ASCO DATA's share capital.
This will enable the ALMA-ASCO group to attain a critical size in Germany, offer a broader range of sheet metal CAD/CAM software products and free up resources to finance innovation and development of new products that will be part of Industry 4.0, in an international environment.
The aim of this operation is the eventual merger of the two German companies as well as ALMA and ASCO DATA product ranges. Several actions have already been taken to bring the companies closer together.
For several years the CAD/CAM market has been going through a process of consolidation. Therefore only the leading companies will be able to survive and continue to innovate. In this context, closer links between the two companies will allow achieving several objectives:
Becoming a leading group in German-speaking countries
In 1977 the Krupp ASCO company – renamed ASCO DATA in 1994 – was a pioneer when it equipped a Russian naval shipyard with its nesting software. It carved out for itself a solid position in the German sheet metal CAD/CAM market, by developing highly automated and customizable solutions, to control complex machines performing 2D cutting, punching and contour milling.
ALMA is a French independent software vendor founded in 1979 and present in Germany since 1999 thanks to its subsidiary ALMA GmbH at Blaubeuren (Baden-Württemberg). It is renowned worldwide for its automatic nesting expertise, and is a CAD/CAM specialist for 2D/3D/Tube cutting and robotic welding.
By linking up with ASCO DATA, ALMA is strengthening its presence in German-speaking countries. The resulting group becomes one of the leaders on the German sheet metal CAD/CAM market, with many prestigious customers references. This ambition to constitute a leading group will be facilitated with ALMA being located in southern Germany and ASCO DATA in the north, and also by rapidly pooling the two companies' resources.
Andreas Meier, the ASCO DATA CEO, says "This operation enables ASCO DATA to link up with a financially robust group of 140 people generating €13 M in sales, very much focused on the international market and therefore guaranteeing a long-term future for our expertise and our customers' investments".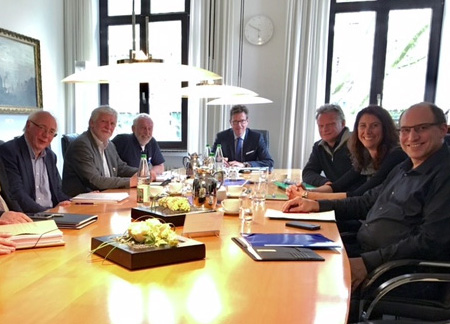 Building a single offering meeting the challenges of Industry 4.0
ALMA and ASCO DATA are the most experienced sheet metal CAD/CAM companies in France and Germany, with nearly a 80-year experience together. In increasingly complex technologies, this unmatched expertise guarantees the quality of these two software vendors' solutions. The complementarity of ALMA and ASCO DATA's fields of expertise enables the group to provide sheet metal CAD/CAM products of excellence in all technologies: 2D/3D/tube cutting, punching, contour milling, bending, robotic welding, etc. Thanks to the interoperability, openness, agility and high level of automation provided by these two software vendors' solutions, their global offering is perfectly aligned with the principles of Industry 4.0, in a long-term approach.
"The stronger links between our two companies will increase the added value of the group's offering, with the constant concern to meet the needs of our customers on the long term, focusing on customization of their solutions. By joining together, we will reap the benefit of the combined know-how of ALMA and ASCO DATA so that eventually all products will converge on the ALMACAM platform, ALMA's latest generation of software launched 2 years ago" says Emmanuel Jeantet, Director of ALMA GmbH.
A joining together that is meaningful on a human level
ALMA and ASCO DATA share the same technical culture and the same approach to the software vendor business: a completely-internalized development work, a focus on customer needs to provide tailor-made solutions, a high-level of service, a strong involvement of teams in customer relations, etc.
It follows that the companies are joining together in a spirit of perfect cooperation. "ALMA's values derive from its status in France as a cooperative company 100% owned by its employees, and are very much shared by ASCO DATA: the long-term future of the business prevailing over short-term profits, participatory management style, transparency of information, spirit of accountability, long-term relationships with our customers" explains Laurence Ruffin, CEO of the ALMA group.
A joint management involving the younger generation from both structures has been put in place. It will prepare the merger of the two German companies and a new management board planned for the end of 2018. The resources of ASCO DATA and ALMA GmbH will be pooled in areas such as marketing, starting with joint participation in the upcoming Schweissen & Schneiden trade fair in Essen and Blechexpo in Stuttgart, and also in the sales and technical support fields.
Bringing the two companies together is intended to be a win/win operation. Thanks to the complementarity of both structures, and a context that facilitates product investments and manpower increases, the stronger links between the companies will not impact the number of employees.
Building an independent group
Priority will be to develop both companies together, to sustain their know-how, to strengthen investment and innovation, and to enable employees to thrive. The independence of the ALMA-Asco group will be guaranteed by promoting an outlook based on economic and human values, and supporting a coherent industrial strategy. This strategy will also be beneficial for the group's international development. ALMA already generates 75% of its sales from exports via its subsidiaries and distribution network, and ASCO DATA is solidly established in Europe.
View all news