Alma is more and more present in Asia.
After signing distribution agreements in Vietnam and Japan last year, a new Malaysian reseller has just joined Alma's network.
NCT Technologies is the biggest Malaysian reseller of sheet metal cutting machines (laser, punching, folding, oxy-cutting and waterjet). The company employs about 60 people in six different locations over the country. By distributing Alma's software products, NCT Technologies is going to increase the added value of its machine offering. "From 2D laser cutting and tube laser cutting to 3D laser cutting, Alma software addresses all cutting technologies and represents an important added value for us as they adapt to all the cutting machines we sell", states Simon Ng, Group Managing Director.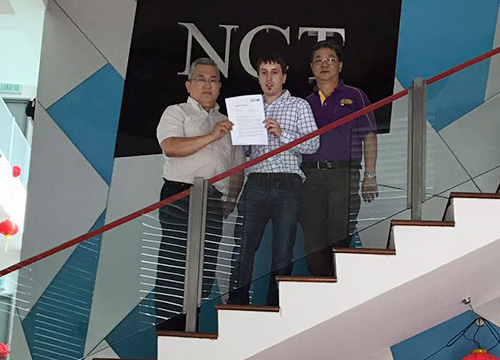 NCT Technologies has started promoting Alma's software solutions during two open house days held in May and June and, since then, three of their engineers have been trained to Alma's products. "During our open house within NCT Technologies showroom, several laser cutting machines were driven by Alma software. The collaboration with Alma allows us to offer our customers better nesting efficiency, better software tools to design tubes and a more secure process for programming 5-axis cutting machines", Simon Ng further says. "Alma's presence in the region was a key factor for our partnership. Arnaud Fray, in charge of the Singapore office, is always very quick and efficient to answer our sales and technical requests", concludes M. Leong, Technical Director.
With its Chinese subsidiary and its local resellers, Alma is now present or represented in seven countries in Asia and more distribution agreements are on the way to be finalized.
View all news