Driven by a new dynamic, the recent TOLEXPO show in Paris has been a success.
Once again, the TOLEXPO show served as a platform to demonstrate our expertise in cutting, sheet metal machining, robotics and our trademark product Almacam, the CAD/CAM software suite which was launched 3 years back. Alma's next generation CAM software is a vital link in the sheet metal digital chain, capable of meeting the challenges of Industry 4.0.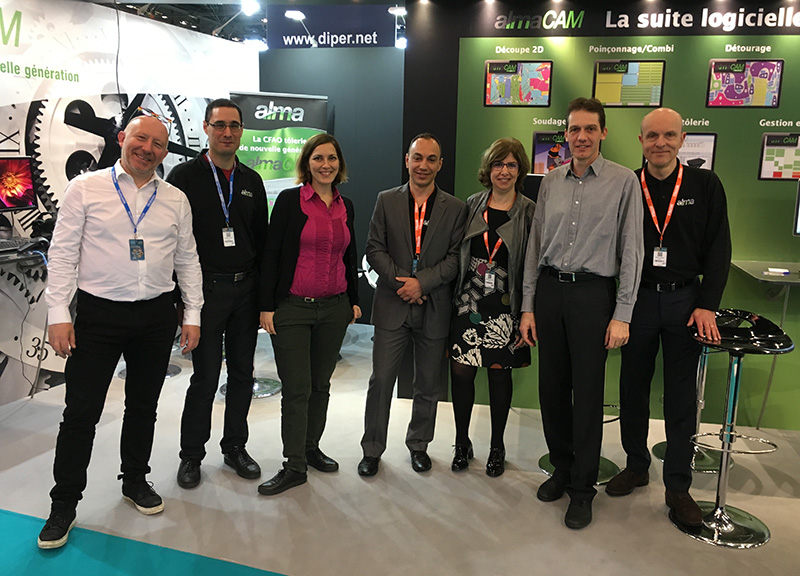 The TOLEXPO show opened on the 27th of March. It is now combined with GLOBAL INDUSTRIE along with SMART INDUSTRIE and MIDEST. This new combination allows the visitors to access all the different components of this biggest French industrial show and must have led to an overall increase in the attendance. In any case, Alma's booth saw a great influx of visitors with interesting projects and quality exchanges with the visitors.
A new generation CAM for Sheet Metal 4.0
We presented our complete Almacam software suite for 2D-3D-tube cutting, sheet metal working, and robotic welding with a special focus on the integration with "ERP / CAM / Workshop" Industry 4.0 digital value chain. The Almacam software suite addresses the major productivity challenges of sheet metal fabrication: raw material costs, reduced programming time to cope with shorter deadlines, data & programming security & traceability, complete integration between the quotation & manufacturing, interconnection between methods, design office & production.
Our new module assembly2CAM automates sheet metal quotation and CAM programming from 3D assemblies, was also previewed in TOLEXPO. The assembly2CAM module makes the import of assemblies simple, fast and reliable by making it possible to process all the types of parts composing the assembly (sheet metal parts, tubes and supplies).
3D software and offline programming of robots
Alma's expertise in controlling 3D cutting machines / tubes and offline programming of welding robots was also highlighted through successful demonstrations of the latest version of our Almacam Space Cut software, Almacam Tube and Almacam Weld.
One of the key attractions in our booth, the virtual reality tour based on the Almacam Weld software was a great success. The visitors immersed themselves in a robotic welding cell. Beyond the fun part, this VR simulation is complementary to the offline programming software, which opens up new perspectives for robotic simulations. This exploratory project demonstrates Alma's passion and commitment to finding new ways to improve the efficiency of its robotics software and the user experience.
A reinforced team
TOLEXPO 2018 was also the occasion for the Alma CAM France division to introduce the new faces:
Fabien Arnoux, robotic application engineer since August 2017, is in charge of installation-configuration of robots and customer support.
Laurent Gissler, technical sales executive for 2D/3D products in the west region and is based in our Nantes office, who joined Alma in September 2017.
Sylvie Blanchard, head of Alma CAM France division since January 2018. An engineer and an Almatian since 1998, Sylvie has previously held various positions as project manager, technical manager and till very recently as a production manager for Alma's Healthcare business. Her experience in team management, technical project management and customer relations are valuable assets in the development of the CAD / CAM business in France, which has been growing steadily.
We thank all our customers and partners for visiting us in our booth. See you in TOLEXPO 2020!
View all news