First unveiled as a prototype in 2014, Almacam, Alma's new sheet metal CAM software, has been very well received by customers since then. Almacam has started to be sold throughout Europe and commercialization will soon begin in North America.
Almacam is a major development project constituting the new core for Alma's product range. Almacam was designed to be an integrated environment exploiting the full potential of Alma's CAM applications, and integrating them seamlessly into the "ERP-CAD/CAM-Workshop" digital chain.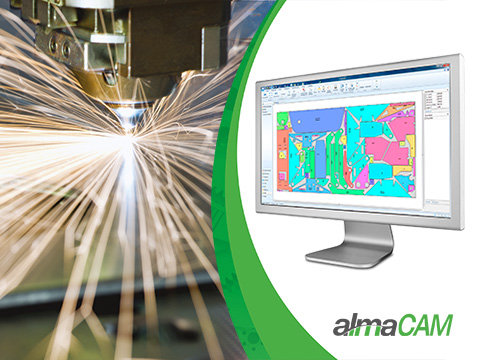 Almacam's key concepts are derived from this double objective:
A system to program machines with maximum agility.
Tools facilitating automation of programming.
Secure management of data and the programming process.
An adaptable environment to develop built-in customizations.
Management of "roles" to facilitate programming organization and supervision.
Complete openness to information systems (CAD, ERP, CAM, MES, etc.)
A platform designed to develop new applications linked to production data management (quotes, scheduling, etc.).
A simple, user-friendly, consistent GUI based on Microsoft's new standards.
The latest version of Almacam performs 2D cutting by following contours and punching-nibbling. It will have pride of place on the Alma stand at the EuroBLECH trade fair in Hannover on 25 to 29 October (Hall 12 G74) and the Las Vegas FABTECH fair from 16 to 18 November (C22024). The latest innovations incorporated into Almacam include functions to further increase flexibility in programming, advanced functions to produce quotes for parts or assemblies, a high performance automatic common cutting algorithm for laser, plasma and water jet, and a new digitization module.
In addition, Alma will present all its CAD/CAM applications for 2D/3D cutting, sheet metal working and robot welding. These tools incorporate dozens of years of technical expertise, they can be adapted to all kinds of production configurations, and deliver immediately measurable gains.
View all posts