Almacam, Alma new generation CAD/CAM software is now widely marketed in Europe and is extremely well received by our customers. To prepare the upcoming launch of this product in the South American market in 2018, Alma's Brazilian subsidiary organized a dedicated workshop in Porto Alegre, with its Argentinian and Chilean resellers.
The workshop was held in Porto Alegre from 4 to 8 December 2017. Thanks to several technical and marketing workshops, participants learned a lot about Alma's new products, its roadmap and its suitability for the needs of different market segments.
The feedbacks from Alma development and support teams and from our European customers were very informative for Alma do Brasil and Disegnosoft. They are all convinced that Almacam is the appropriate product to address all the issues met by their customers like reduction in programming time to face increasingly shorter deadlines, data & programming security and tracking, full integration between quote and manufacturing, interconnection between design office, production engineering & workshop.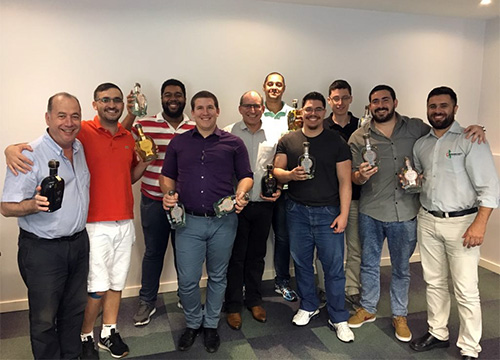 "Almacam is an awesome tool", states Alessandro Morari, General Manager at Alma do Brasil. "With its native traceability system, security of data and programming process, it encompasses manufacturing, production management and information technology, placing Alma at a completely different level from competitors."
"The new module that allows to import and process 3D projects for both quotation and CAM is powerful", adds Héctor Omar Mina, Disegnosoft's General Manager. "Customers are able to budget and produce projects very quickly. Moreover, customers with several machines won't have problems with machines overcharging in production thanks to Almacam's integrated production scheduler that includes machine workload analysis, avoiding loss of production and productive time".
Almacam became a major development project, at the forefront of Alma product range. It was designed as an integrated environment dedicated to fully develop the potential of Alma CAM applications (nesting, 2D/3D cutting, punching, routing, etc.) and to transparently integrate these into the digital chain "ERP/CAD-CAM/Workshop", in accordance with the Industry 4.0.
The launch of Almacam in the South American market  this year will reach its peak at FEIMEC exhibition in Brazil (Sao Paulo, from 24 to 28 April 2018) and FIMAQH exhibition in Argentina (Buenos Aires, from 15 to 19 May 2018).
View all news